Media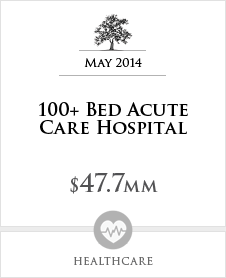 White Oak Global Advisors Provides $47,700,000 Senior Secured Term Loan
19 May 2014
San Francisco, May 19, 2014 – White Oak Global Advisors, LLC ("White Oak"), a leading provider of private debt financing to middle market companies, announced the closing of a $47.7 million senior secured term loan to a full-service, acute care facility ("Hospital") located in the southwestern United States. The loan proceeds were used to purchase advanced diagnostic and therapeutic equipment and support the continued growth of the Hospital.
The 100+ bed Hospital includes an emergency department with 11 acute emergency examination rooms, five operating theaters, two cardiac catheterization rooms and two endoscopy rooms. The Hospital provides endoscopy, nuclear medicine and physical therapy services as well having as an onsite clinical laboratory and pharmacy.
White Oak served as Administrative Agent and Sole Equipment Lender for this transaction.
About White Oak Global Advisors, LLC
White Oak Global Advisors, LLC, is an SEC-registered investment adviser that directly originates private debt financings to middle market companies to support growth initiatives. White Oak's product suite includes asset-based secured term loans and credit facilities, cash flow based term loans, unitranche facilities, rescue and debtor-in-possession (DIP) financings, in/out of court restructurings, acquisition and capital expenditure facilities and other structured finance instruments. With $1.281 billion of invested and committed capital,* White Oak has made over 68 direct debt investments in companies with enterprise values between $50MM and $1 BN across a diverse range of industries and sectors. Headquartered in San Francisco, White Oak has additional offices in New York City and Dallas.
To learn more about White Oak Global Advisors, LLC, visit
www.whiteoaksf.com
.
*White Oak's assets under management (AUM) is calculated as of 12/31/2013 and includes the Regulatory Assets under Management as disclosed in the firm's Form ADV in addition to the uncalled capital commitments of the separate accounts managed by the firm.