Media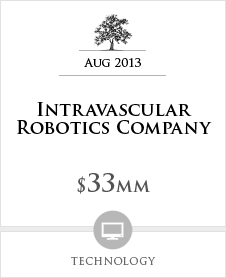 White Oak Global Advisors Provides $33,000,000 Senior Secured Term Loan Facility
21 October 2013
San Francisco, October 21, 2013 – White Oak Global Advisors, LLC ("White Oak"), a leading provider of private debt financing to middle market companies, announced the funding of a $33.0 million senior secured term loan to a global provider of intravascular robotics products and technology (the "Company"). The financing was used to refinance existing debt and will support the continued development of the Company's product pipeline.
The publicly-traded Company has developed technology that supports two industry trends: the increase in both minimally invasive surgery and interventional procedures. Originally founded to develop products and technology using robotics for accurate positioning, manipulation and stable control of catheters and catheter-based technologies, the Company has capitalized on growing market opportunities. They now have one of the strongest intellectual property positions in the medical robotics industry with more than 250 issued and pending patents, aiming to provide physicians with tools for procedural and therapeutic success.
White Oak was the Administrative Agent and Sole Lender for this transaction.
About White Oak Global Advisors, LLC
White Oak Global Advisors, LLC, is an SEC-registered investment adviser that directly originates private debt financings to middle market companies to support growth initiatives. White Oak's product suite includes asset-based secured term loans, cash flow based term loans, unitranche facilities, rescue and debtor-in-possession (DIP) financings, in/out of court restructurings, acquisition and capital expenditure facilities and other structured finance instruments. With over $1.0 billion of invested and committed capital, White Oak has made over 60 direct debt investments in companies with enterprise values between $30MM and $500MM across a diverse range of industries and sectors. Headquartered in San Francisco, White Oak has additional offices in New York City and Dallas.
To learn more about White Oak Global Advisors, LLC, visit
www.whiteoaksf.com
.