Media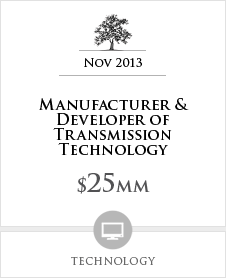 White Oak Global Advisors Provides $25,000,000 Senior Secured Term Loan Facility
03 February 2014
San Francisco, February 3, 2014 – White Oak Global Advisors, LLC ("White Oak"), a leading provider of private debt financing to middle market companies, announced the funding of a $25.0 million senior secured term loan to a technology developer and manufacturer of advanced transmission systems (the "Company"). The financing was used to refinance existing debt, support the growth of a core business unit and expand the Company's European sales force.
The privately-held Company is headquartered in the United States with manufacturing and sales operations in China and Europe. Its transmission systems are used for a wide range of applications including electric vehicles, automobiles, agricultural equipment and wind turbines. The Company owns a portfolio of thousands of patents and patent applications.
White Oak was the Administrative Agent and Sole Lender for this transaction.
About White Oak Global Advisors, LLC
White Oak Global Advisors, LLC, is an SEC-registered investment adviser that directly originates private debt financings to middle market companies to support growth initiatives. White Oak's product suite includes asset-based secured term loans and credit facilities, cash flow based term loans, unitranche facilities, rescue and debtor-in-possession (DIP) financings, in/out of court restructurings, acquisition and capital expenditure facilities and other structured finance instruments. With $1.281 billion of invested and committed capital,* White Oak has made over 68 direct debt investments in companies with enterprise values between $50MM and $1 BN across a diverse range of industries and sectors. Headquartered in San Francisco, White Oak has additional offices in New York City and Dallas.
To learn more about White Oak Global Advisors, LLC, visit
www.whiteoaksf.com
.